Annapurna Base Camp Trek
12th December, 2019 | Highlander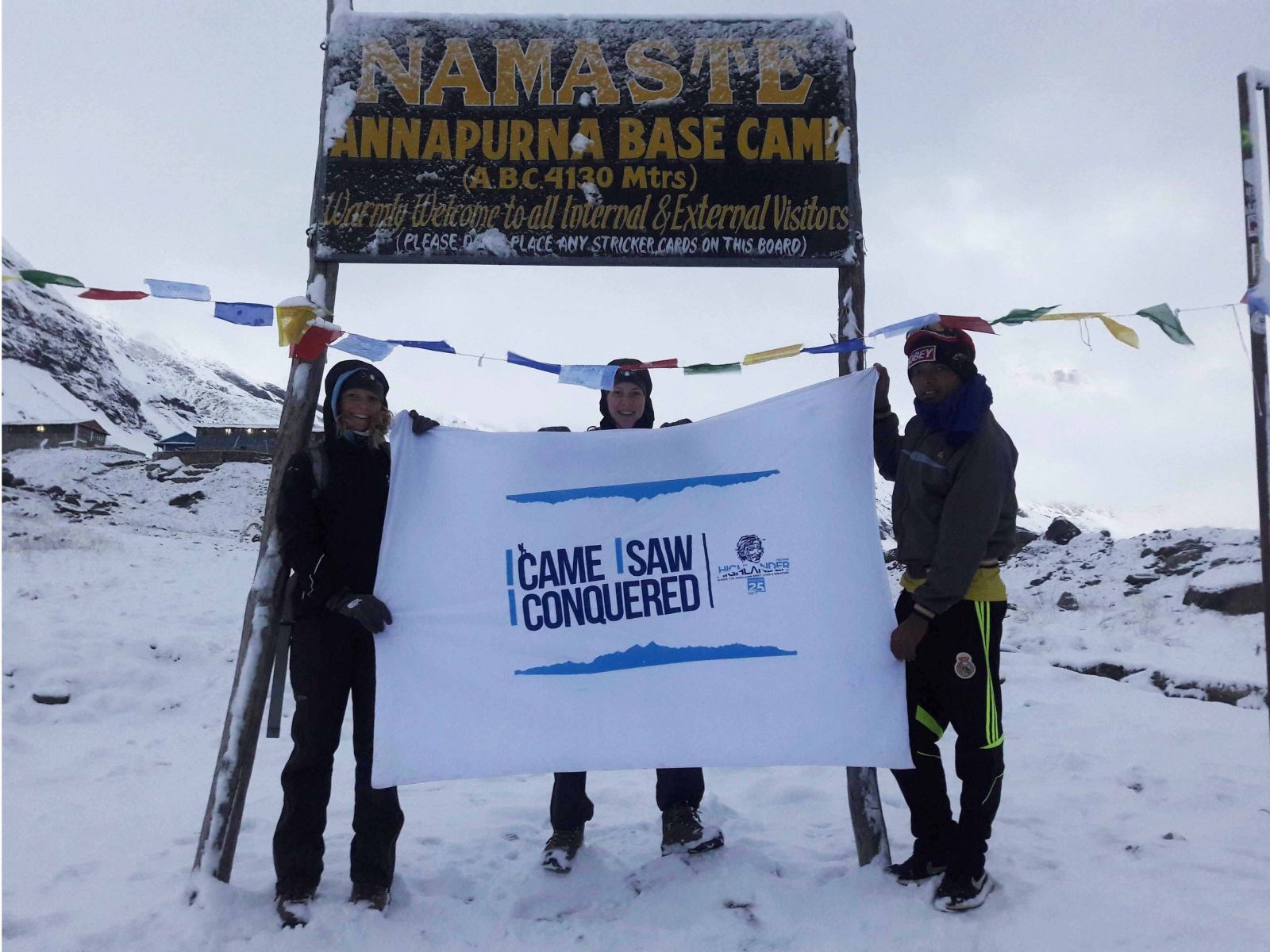 ANNAPURNA BASE CAMP TREK
Trekking in the Himalayas of Nepal is a dream for many. Every trekking route in Nepal offers something unique and amazing which does not let you regret your decision. Among many such trekking routes in Nepal, Annapurna Base Camp Trek is one of the finest and world-famous trekking routes which gives you gorgeous views of the mountains in the Annapurna region. Annapurna Base Camp trek is one of the mostly visited trekking routes in the world. This trail leads you through different new places and experiences like the lifestyle, culture and the beautiful nature of people from various ethnic groups and backgrounds. The time interval of this trek depends on the itinerary and the distance you can walk. This trek takes 7-12 days to complete.
The Annapurna Base Camp is at an height of 4130 metres which is the maximum height you will reach in this trek.
BEST SEASON FOR ANNAPURNA BASE CAMP TREK
The best time for Annapurna Base Camp trek would be from March to May and from October to December.
Nepal experiences monsoon season from June to August or mid September. Moreover due to lack of sufficient infrastrauctures, Nepal often suffers from flood and landslides during this time.
January and February are not much suitable for this trek due to winter where it becoms very hard to walk.
Book your Annapurna Base Camp Trek now or contact us if you have any more questions.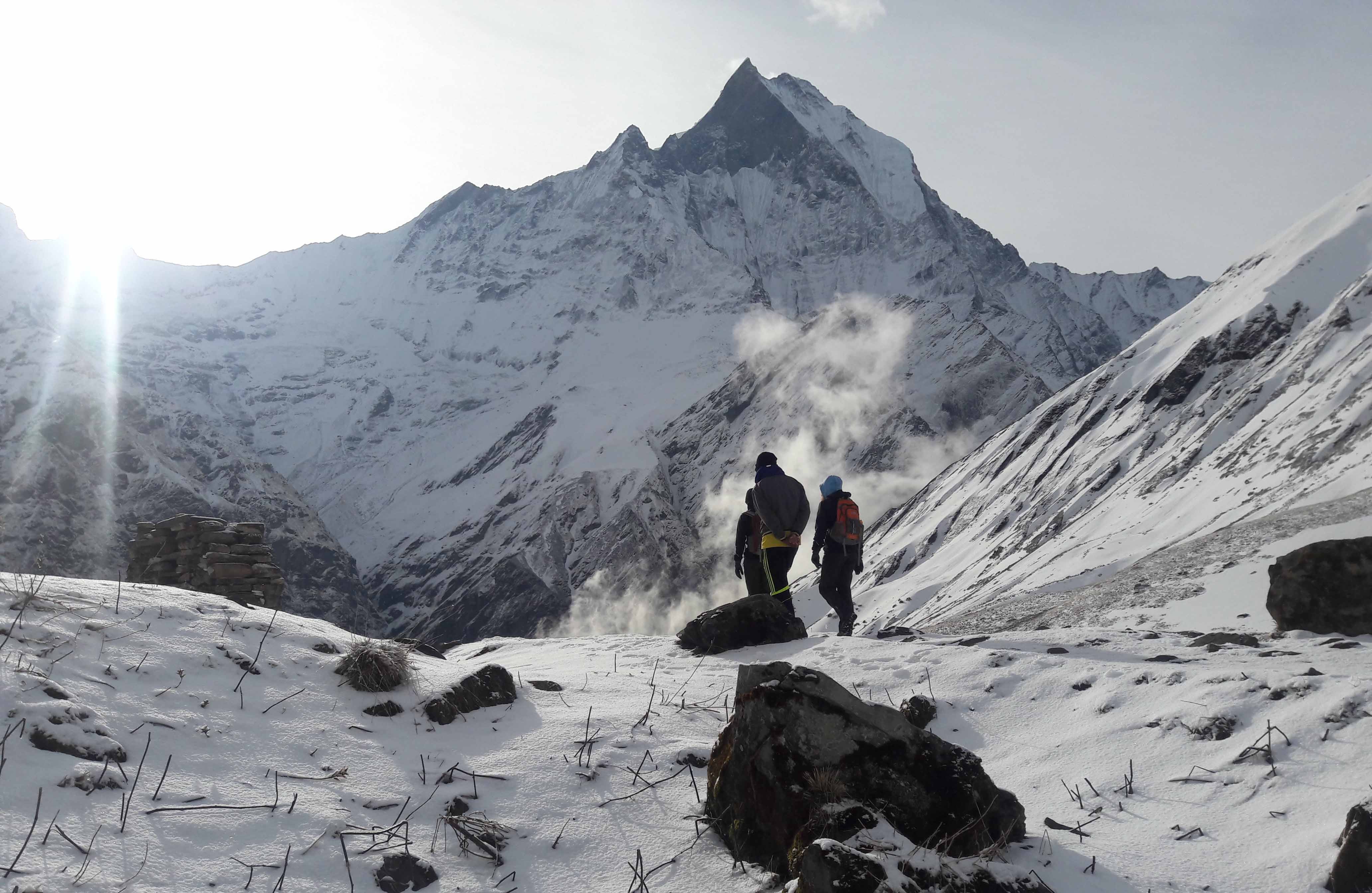 ANNAPURNA BASE CAMP TREK ITINERARY
The itinerary described below starts from Kathmandu.
Day 1: Kathmandu to Pokhara
After having morning tea and breakfast, we leave early in the morning for Pokhara which is 6-7 hours drive. After the 7 hours drive, you will be welcomed by gorgeous views of the Himalayas (if the weather is kind) as you reach Pokhara. We reach Pokhara during the evening so after taking rest, you can enjoy and explore nightlife in Pokhara. There are many places in Pokhara you can visit like Sarangkot from where you can get clear views of Machhapuchhre and Dhaulagiri. You can also visit Mahendra cave, International Mountain Museum, Bat Cave, Devi's Fall and so on.
Day 2: Pokhara to Nayapul
After having breakfast, we take an early drive from Pokhara to Nayapul which is also the base and starting point of many trekking routes. The drive up to Nayapul takes about 2 hours and after this we start our walk up to Annapurna Base Camp. The day's trek will lead up to Tikhedhunga from Nayapul. Tikhedhunga will be the first overnight spot of Annapurna Base Camp trekking. It takes about 4 hours from Nayapult to reach Tikhedhunga. On the way to Tikhedhunga, we pass through a small Magar community where we will get to take some rest and explore and interact with the Magar community.
Day 3: Nayapul to Tikhedhunga
After spending the night at Tikhedhugna, the next day trail will lead us through beautiful rhododendron forests and a lush green forest up to Ghorepani. Ghorepani is a most beautiful place for Himalayan views. The day's trail takes 6-7 hours to reach Ghorepani from Tikhedhunga. Ghorepani is at 2750 metres height which offers you a mesmerizing and beautiful sunrise view over the mighty peaks of Annapurna and Dhaulagiri range. We will take an overnight stay at a tea house.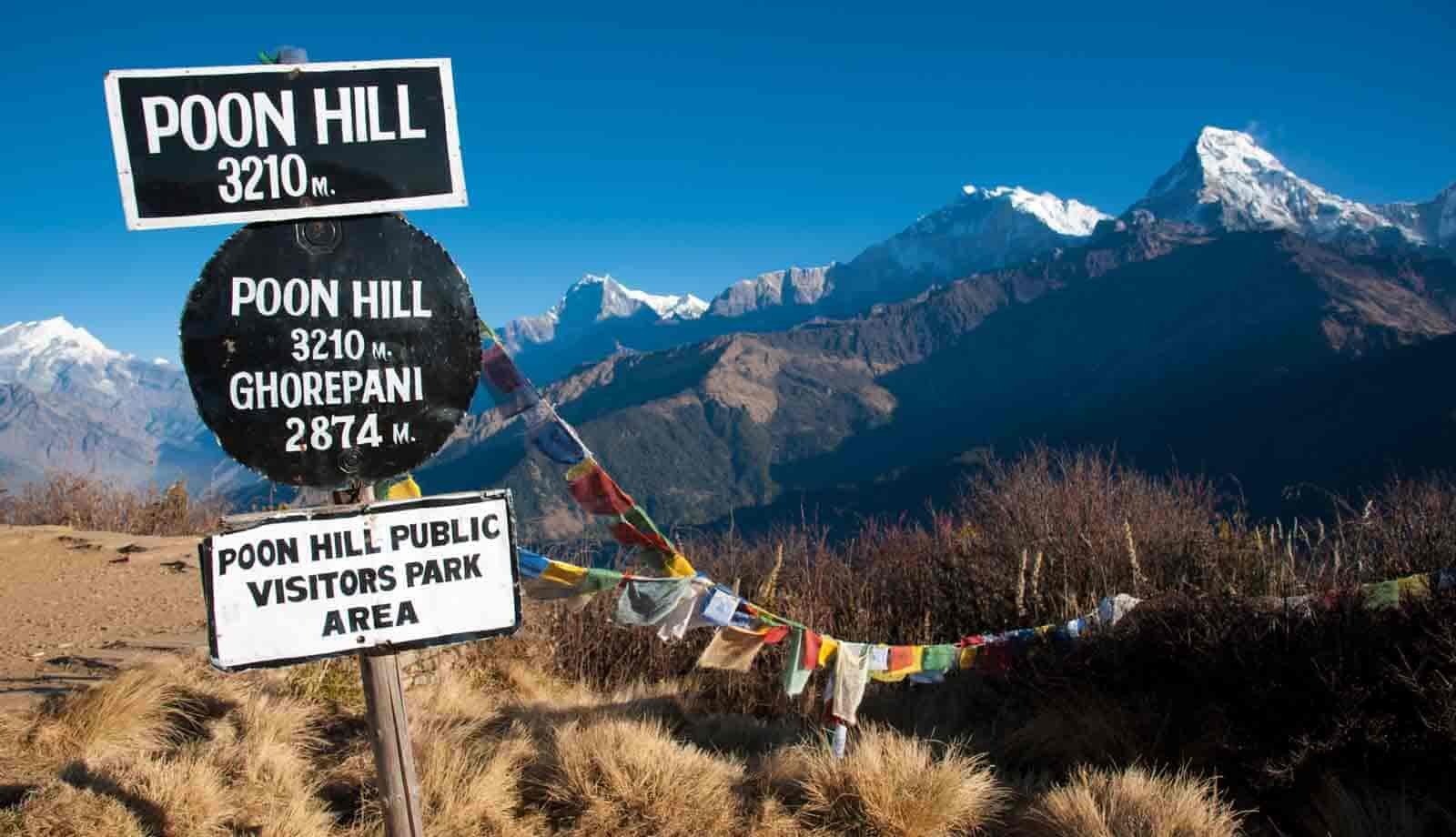 Day 4: Tikhedhunga to Ghorepani
The next day trail will lead us up to Tadapani but before Tadapani, we take a 45 minutes trek up to Poon Hill from where we will watch beautiful sunrise and Himalayas around. Poon hill is one of the best place to view the sunrise and sunset decorating the mountain with its rays. We leave Ghorepani early in the morning before the sunrise as we will be going up to Poonhill for sunrise view over the beautiful mountains. We take a break on Poonhill for breakfast and the sunrise view. We then resume our trekking route up to Tadapani. The trek up to Tadapani trek takes about 4 hours from Poonhill. The trail will lead you to explore the Pine and Rhododendron forests with beautiful landscape views. After reaching Tadapani you will going for a break which will be on tea house.
Day 5: Ghorepani to Poonhill to Chhomrong
The target for fifth day will be Chhmorong village which takes about 4-5 hours to reach. We go through many small trails and reach the Chhomrong village will be our day overnight place. Chhomrong is a beautiful village settled by Gurung community. Throughout this Annapurna Base Camp trek, you will get to interact with communities with varying lifestyles, culture and traditions. You will get a chance to spend a time with them which helps you to know about them. You will get a chance to taste a typical gurung cuisine here. Although, the committee has established a stable menu, I recommend you to try thr local cuisines.
Chhomrong village is at 2100 metres height spread over a hillside that has stunning views of Annapurna and Machhapuchhre. The day's trek ends up here and an overnight here will be at guesthouse.
Day 6: Chhomrong to Dovan
After a night stay at Chhomrong, we move forward for Dovan which takes 6 hours to reach. Dovan is at an elevation of 2430 metres. The trail leads us through long stone-stairs through jungle of Rhododendrons and Oaks. Passing through this trail, we will also climb through the side valley to enter the Modi khola from where we follow a rocky path through the bamboo forest. We will also get to see the small settlement of Khuldi ghat which will be the last stop of trekking and going to take an overnight here.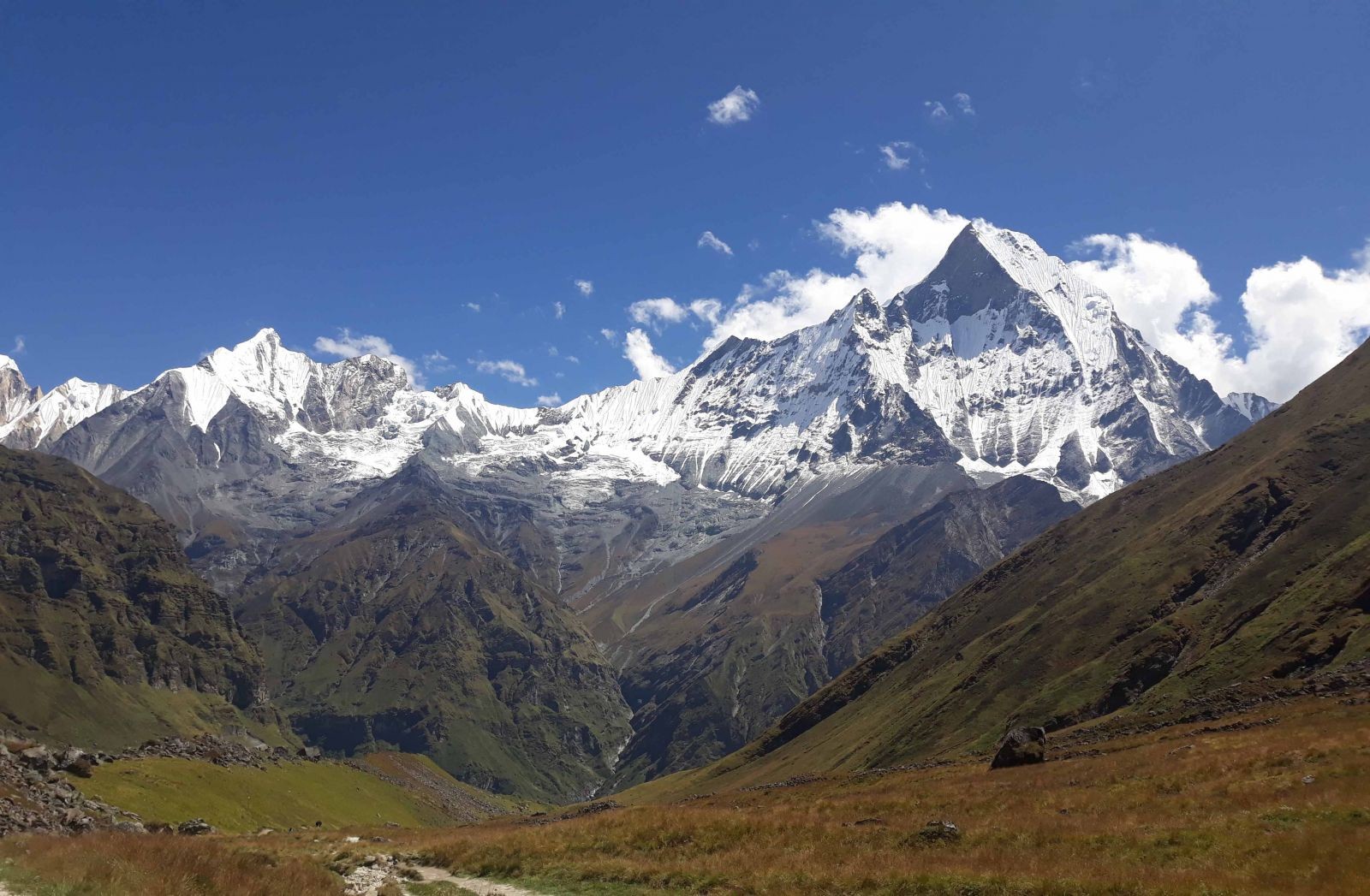 Day 7: Dovan to Machhapuchhre Base Camp
The seventh day of the trek will take you up to Machhapuchhre base camp which is at the altitude of 3700 metres. The trail takes 6-7 hours. The valley becomes increasingly hemmed in by every steeper slopes. On the way we will also get to see the regular steams passing through the trails. Climbing through Hinko danda to Deurali which take a short path and then Bagar to Machhapuchhre BaseCamp, our trekking trail will be end for a day and we will take an overnight at Machhapuchhre Base Camp on teahouse.
Day 8: Machhapuchhre Base Camp to Annapurna Base Camp
Next day, after two hours of walk from Machhapuchre Base Camp we finally reach our ultimate destination of the entire trek i.e. Annapurna Base Camp. Annapurna base camp offers a wonderful, mesmerizing and a life-time experience to you. The beauty of Himalayas will relief all the trekking pain you've been coping with. Enjoying the views, culture, cuisines, lifestyle we will take an overnight here at tea house. We enjoy gorgeous sunrise view from the Annapurna Base Camp the next day and proceed our journey down.
Day 9: Annapurna Base Camp to Bamboo
On the way down to Chhomrong, we pass through a beautiful place where many trekkers stop for lunch, it is called Bamboo. We stay the night at Bamboo and prepare for the final trek down.
Day 10: Bamboo to Jhinu Dada
The day's trek down will lead us to a beautiful place gifted by nature, hot spring pool. It is one of the beautiful and natural swimming pool where you get hot water in the pool. The downhill trek from Chhomrong will take us here and then after 10-15mintues of walk from this hot spring pool, we will reached Jhinudanda where we take a break and stay overnight. It takes about 5-6 hours to reach Jhinudanda from Chhomrong.
Day 11: Jhinu Dada to Nayapul to Pokhara
Next day, clearing up all the trekking pain in the hot spring pool, we will trek back to Nayapul enjoying the greenery and amazing landscape. It takes less than 4 hours to trek down to Nayapul. And after reaching the base and starting point of trekking session Nayapul, we drive back to Pokhara. And if possible then we will drive back to Kathmandu on the same day. And if not then we will take a break and explore the beauty of Pokhara.
Book your Annapurna Base Camp Trek now or contact us if you have any more questions.